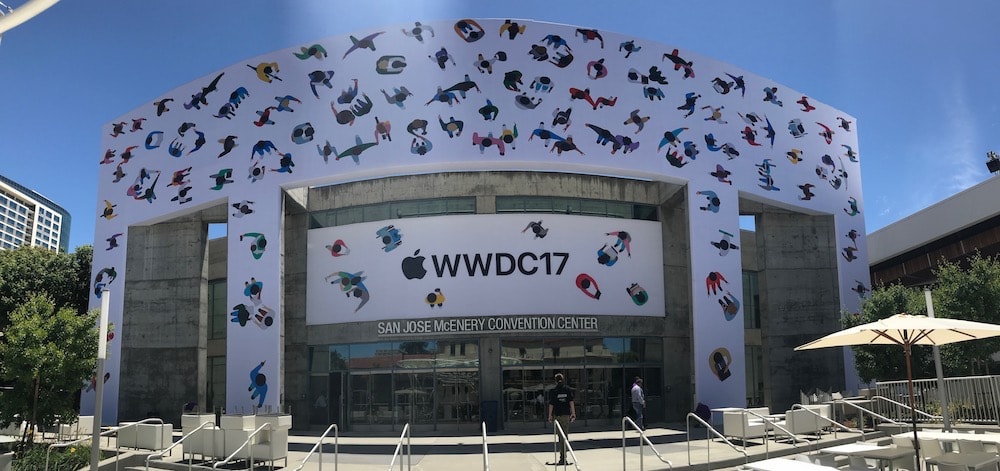 I attended WWDC 2017 on a student scholarship this year. I had the possibility to attend it in San Francisco back in 2014 too. Now that I am back home and I have the time to reflect on the week I spent with the best Apple minds, I found some interesting differences between how the two conferences were organized.
As a conference organizer myself, I know how much work goes into making such an event happen. I always appreciate when people give feedback about App Builders and Swift Alps. It's important to keep improving future events for everyone!
First of all, I would like to thank the whole Apple team that was able to do an extraordinary job in planning the conference. Every staff member was always nice, polite, and super helpful.
This is a very personal opinion and other attendees will have a different opinion for sure. Happy to hear other takes on everything I am going to list!
I would like to write about what I liked and what could be improved in the future editions. Sorry Apple people, but I couldn't find the WWDC category in radar, so here I am! 😉
Pins: pins were definitely one of the highlights of the conference. We were given a set of 6 random pins when checking-in. Together with the WWDC 2017 Levi's jacket, a country pin was also available for the attendees to collect. Nicola Giancecchi, also a scholarship recipient, lives in San Marino (the 4th smallest country in the world with only 31,781 people) and I was surprised to see they printed his flag too! 🇸🇲

During the conference, some Staff members were distributing new special pins. That was a really nice touch.

Soon the exchange market started. A really nice way to bring the community together.

Staff: As mentioned before, the Staff was very helpful in every occasion. They had explosive-sniffing dogs for the whole week inside and outside the convention center (with even their own dub dub badge) and they were happy to have people pet them.
Keynote: I was a little disappointed to see nobody distributing coffee or food while in line. This was most probably because in San Jose there are fewer companies looking to promote themselves. In 2014, companies were distributing free food and drinks to help kill the time and promote their company while the attendees lined up during the night. As students, we were told to be in the convention center by 8.15 AM to be able to enter our reserved area. I was in line since 4.30 AM but surprisingly our reserved sector was the second one (> 25th row). A few friends and I joined another friend in the 7th row to have a better view though 🙃

Security for the keynote was very fast, just a quick bag check and metal detector for everyone.

Food was very disappointing. The 2014 catering in Moscone Center had many more choices for breakfast (the more 🍩, the better). Box lunch was very disappointing. Almost the same burrito box every day. Some sandwiches were also available but calling "italian", a sandwich with multiple 2cm pieces of onion inside it is way too much for my taste. 🙈

I know, it's very difficult to feed 5k developers in a very short amount of time, but more quality could go into the food in my opinion. Nonetheless, I had the opportunity to explore a few food places in San Jose.

Music in the breakfast and lunch room was a little bit boring. Only 4-5 songs were playing all day. It was supposed to be a background music for people to be able to work, but after a few days I couldn't stand the music anymore. More songs would have helped a lot. 😬
Wi-Fi was a little bit disappointing. For most of the conference, it was unusable. So unusable, that when I was told to file a radar, bugreport.apple.com didn't even load 😭

I think a better Wi-Fi would benefit everyone, but again, having 5k developers in the same building makes the IT team very sad.

Bash: I loved the Bash. The new location was huge and it felt like being at a real music festival for one night. In 2014, students who weren't allowed to drink were located on the terrace of the Yerba Buena Gardens. Good landscape for sure, but impossible to interact with other 21+ attendees. Food was better in this case, a lot more choice than lunch. A few social games were also available to play during the party. A very nice idea 👍
San Jose has very few people in the streets at all times. It felt like a ghost town. The weather was definitely an improvement over San Francisco, but in contrast San Jose had less choices of places to go.
Convention Center: I loved the convention center. The outdoor location in front of it was spectacular. Having lunch with the sun shining instead of being in dark room with everyone on their computers was a big improvement. The hallway was actually smaller than Moscone Center and this caused some issues when many people queued up for the same session. The entrance for the lunch room was blocked sometimes but the staff managed that pretty well. Shortly said, big 👍 for the same location in the future.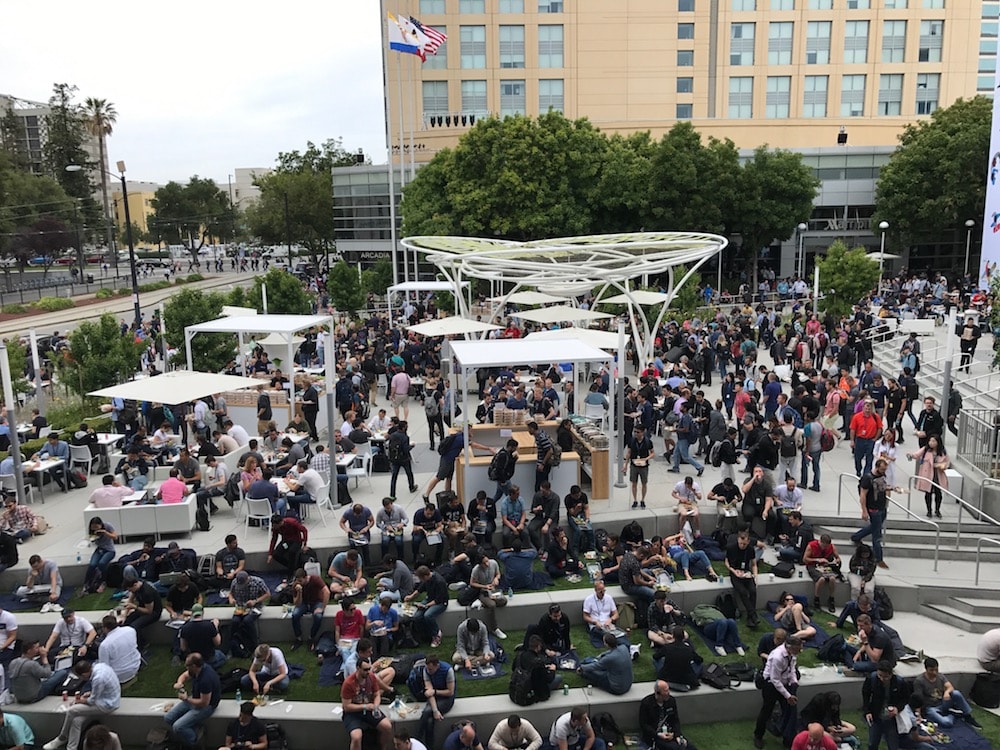 I hope you enjoyed my short report about WWDC 2017 whether you were there in person or followed it from your comfortable home. If you were there, please share your thoughts about the conference, I would love to read other attendee's opinion.
I would like to thank everyone again, I met a lot of amazing people thanks to WWDC. I can't wait to experience it again in the future!
Thanks to Alexsander Akers for proof-reading.